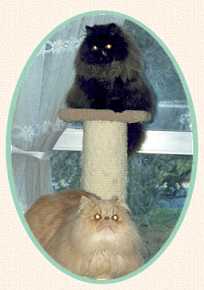 Welcome to Dewmar Persians, a small cattery breeding solid and colour-point (Himalayan) Persians. My cattery is located in Page in the Australian Capital Territory. I am new breeder registered with Capital Cats Inc.
I have been owned by Persians for over 20 years and have been showing them for the past two years after being encouraged by Agnes Jeremenko to show Pershim Rose Bud my beautiful red-point girl whom I had bought from her as a pet. Luckily I took her advice because Rose Bud was awarded desexed Group 1 cat of the year in the ACT in 2002.
I have made the big decision to become a breeder and have acquired the kittens that will become my first stud and queen. I can hardly wait for my first kittens to arrive.
I intend to breed for health, temperament and type from PKD free parents.
Denise White
Canberra, ACT, Australia